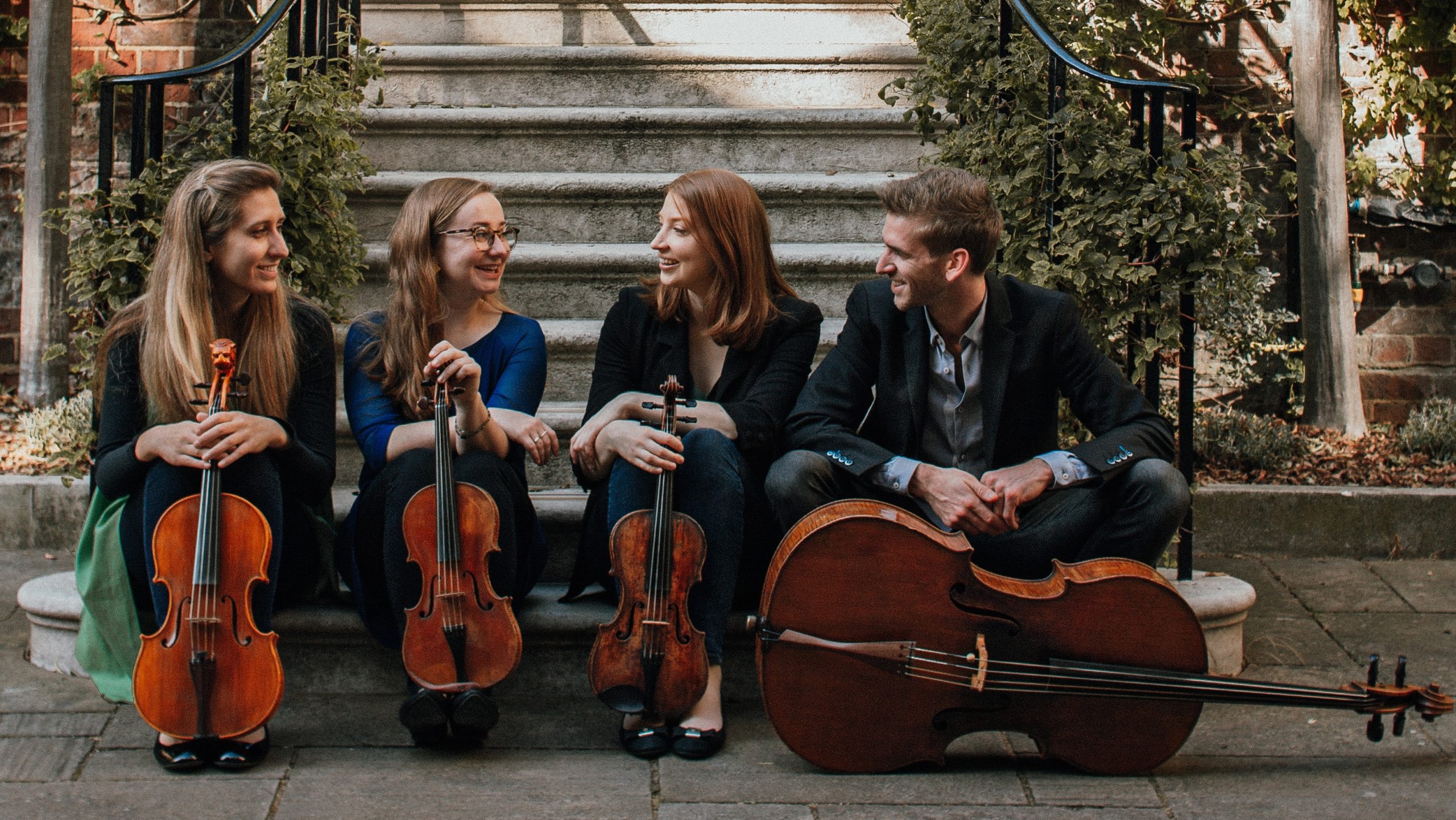 Agata Daraškaite (violin)
Magdalena Loth-Hill (violin)
Elitsa Bogdanova (viola)
George Ross (cello)
6:00pm & 8:00pm, £20, Free for 25's and Under
Haydn String Quartet Op.33, No.4
Schumann String Quartet Op.41 No.1
Concert duration 1 hour
This performance will happen twice
This concert is a replacement for the Chiaroscuro Quartet who have sadly had to pull out of the festival due to Coronavirus travel regulations.
---
The first period instrument quartet to be selected as BBC New Generation Artists, the Consone Quartet are fast making a name for themselves with their honest and expressive interpretations of classical and early romantic repertoire. Their debut CD (released in 2018 on the French Ambronay Label) explores music by Haydn and Mendelssohn, and was met with great critical acclaim as a recording "that instantly leaps out of the stereo at you as something special" (The Strad, 2019).
Formed in 2012 at the Royal College of Music in London, the Consone Quartet are winners of the 2016 Royal Over-Seas League Ensemble Prize in London, having previously been awarded two prizes at the 2015 York Early Music International Young Artists Competition, including the EUBO Development Trust Prize and a place on the EEEmerging Scheme in France.
The quartet has been enthusiastically received at London's Wigmore Hall, King's Place, St Martin-in-the-Fields and at the Edinburgh, Cheltenham, and King's Lynn Festivals amongst others. The Brighton and York Early Music Festivals have been loyal Consone supporters over the past few years and regularly host the group.
Keen to enhance their international reputation, the quartet has performed at the Paris Philharmonie String Quartet Biennial and the Lyon Auditorium in France, at the Concertgebouw, Brugge and AMUZ in Belgium, twice at the REMA Showcase, the Concerts d'été à St Germain in Switzerland and at other venues in Italy, Austria, Bulgaria, Slovenia, as well as on tour in Bolivia and Peru.
Consone enjoy regular collaborations with members of the Hanover Band and other fellow musicians, most recently Anneke Scott, Gwilym Bowen, Paolo Zanzu, Mary Bevan and Alexander Rolton. The quartet has previously worked with students of the Royal College of Music and the Royal Welsh College of Music and Drama, and are currently chamber music fellows at the Guildhall School of Music and Drama for 2020/2021.
2021 sees the group returning to the Wigmore Hall, Buxton and Cheltenham Festivals, touring in Japan and the north of England and Scotland, as well as a 'Consone & Friends' BBC Radio 3 series from the Dora Stoutzker Hall in Cardiff. The quartet is also curating a new online series of three concerts in barns, entitled 'Barnstrorming!'. The project is kindly supported by the Continuo Foundation.
Covid-19: We have worked hard to make sure that our Summer Festival audience feels safe at our concerts. In line with current Covid-19 government safety guidelines, all of our concerts are planned to be socially distanced.